Share this URL: https://taikoworkoutjune2021.peatix.com/
TAIKO WORKOUT (JUNE 2021)
★DUE TO THE LATEST GOVERNMENT ANNOUNCEMENTS (PHASE2/HA, 4 May 2021), we focus more on trying various instruments instead of "WORKOUT SEGMENT". We also limit the number of participants.
If any changes, we will contact those who have registered. ★

You can register with individual session. There will be free addditinal session (MORNING TAIKO) on one of the Fridays (10:30-12:00). We focus on one of the styles from the TAIKO WORKOUT where you can learn more details of that style. Please check the ticket selections for the date.
Payments made are non-refundable. When we can cancel any session(s), we will refund for that lesson.

THIS SESSION WILL BE MAINLY IN ENGLISH.
このセッションの進行は原則英語ですが、講師は日本人ですので、ご質問がありましたら日本語でどうぞ。

★PilaTaiko & TAIKO WORKOUT
After successful sessions of PilaTaiko (Pilates x Taiko), We are happy to announce a new programe "TAIKO WORKOUT".
From the PilaTaiko participants (who had good inputs and bodyawareness), we have received good feedback and requests asking more output. So our focus for this session is OUTPUT and WORKOUT! Of course, it would be the best if you join PilaTaiko in future as well.

これまで8回開催してきた「ピラティスと和太鼓を組み合わせたPilaTaiko」では、ボデã'£ã'¢ã'¦ã'§ã'¢ãƒã'¹ã'"姿勢æ"¹å–"に関してたくさã'"の気づきとã'¤ãƒ³ãƒ—ットがã'ã'Šã¾ã—たã€'å'åŠ è€…ã®æ–¹ã‹ã'‰ã€ã€Œã''っとã'¢ã'¦ãƒˆãƒ—ットã''したã"ã€'」とã"うリã'¯ã'¨ã'¹ãƒˆã''ã"ただã"たので、ã'¢ã'¦ãƒˆãƒ—ット(ワーã'¯ã'¢ã'¦ãƒˆï¼‰ã«ç‰¹åŒ–したプロã'°ãƒ©ãƒ ã''開始ã"たしますã€'次回、PilaTaikoにã''ぜひã"å'åŠ ãã ã•ã"ã€'相乗効果ばっちã'Šã§ã™ã€'

Japanese Magazine "PARTI"




If you are familiar with the Pilates, the three main focus points are below.
①Body alignment ②Breathing ③Power House (Core Center inner muscle training)
These are important when you play TAIKO, too.

ピラティス経験者の方は、以下の3つの重要ポイントをご存じだと思います。
①「姿勢」②「呼吸」③「パワーハウス」
太鼓を打ち込む際にもとても大切なポイントです。

★WHAT YOU WILL ENJOY / EXPERIENCE このセッションで経験できること・楽しめること
① GOOD WORKOUT  いい汗をかきましょう。
You can simply focus on having a good exercise. Or you can learn more details of each movements by the instructor and improve your body posture. When you play Taiko with proper body postures and body engagements, you can feel the difference in sounds!
We also use different equipments such as trampolines for core training and for rhythmic trainings.

楽しみ方は皆さんそれぞれですが、まずは楽しく運動していい汗をかきましょう。
無心に太鼓を打ち込んで、日常でたまったストレスを吹き飛ばすのも気持ちがいいです。
太鼓の音は身体に響きます。ほかの運動とは一味違ったワークアウトになること間違いなし!
PilaTaikoにå'åŠ ã—ãŸã"とのã'ã'‹æ–¹ã'"、ãƒ"ラテã'£ã'¹ã'"ヨã'¬ã®çµŒé¨"者など、身ä½"のã"とに興å'³ãƒ»é–¢å¿ƒã®ã'ã'‹æ–¹ã¯ãœã²ãã'Œãžã'Œã®ãƒ¯ãƒ¼ã'¯ã§èº«ä½"のどの部分にæ"è­˜ã''すã'‹ã‹ã€å¤ªé¼"ã''æ‰"ち込ã'€ã¨ãã®å§¿å‹¢ãªã©ã«ã''æ"è­˜ã—てみてã"くださã"ã€'太é¼"の音が変ã'ã'‹çž¬é–"ã'"、自分の身ä½"の安定ã'"ãƒ'ワーの入ã'‹çž¬é–"ã''実際にä½"æ"Ÿã—て、「何となく言ã'ã'ŒãŸã"とã''ã'"ってみã'‹ã€'」かã'‰ã€ã€Œã'、なã'‹ã»ã©ã€'違ã"が分かったã€'」とã"う変化ã''æ"Ÿã˜ã'‹ã"とができますã€'音が確実に変ã'ã'Šã¾ã™ï¼
トランポリンを取り入れたワークでは、体幹強化にもつながります。

② MUSIC x BODY MOVEMENTS  音楽xムーブメントを楽しみましょう。
There will be no complicated rhythms for this session.
You will enjoy a good combination of MUSIC and BODY MOVEMENTS and have fun!
Every action (e.g. walking) has rhythms and you can see them visually not only by audio.
We also include works using trampolines for this! It is a fun experiment.

このセッションでは複雑なリズムはありません。音楽やリズムと身体の動きのコンビネーションをお楽しみください。
歩くことなどすべてのアクションにはリズムがあります。リズムは音だけではなく目で見えるんです。
トランポリンを使ってのワークは、なかなか「目から鱗」な時間になると思います。
お楽しみに。


③ VARIOUS TYPES OF TAIKO Japanese Drums いろいろな種類の太鼓を打ち込みましょう。
You can try various types of Taiko (Japanese drums) includng our biggest ones (1m in diameter).
You can strengthen different parts of your body by trying different Taiko styles.

太鼓にも、たくさんのサイズや種類、そしてスタイルがあります。
響屋で直系1mの大太鼓を含め様々なものをお試しいただきます。
それぞれ意識する身体の部分が変わりますので、それも意識しながら日本でもなかなか経験できないものをいろいろお楽しみください。
太鼓を打つ姿はなかなかの「SNSæ˜ ãˆã€â¤ã§ã™ã€'ワーã'¯ã'·ãƒ§ãƒƒãƒ—中にæ'®å½±ã—た写真はå'åŠ è€…ã®çš†ã•ã'"にã'·ã'§ã'¢ã"たしますã€'
日本でもなかなかない機会です。このあまりいろいろ活動できないときに、いい汗をかいていい笑顔の写真を撮りましょう。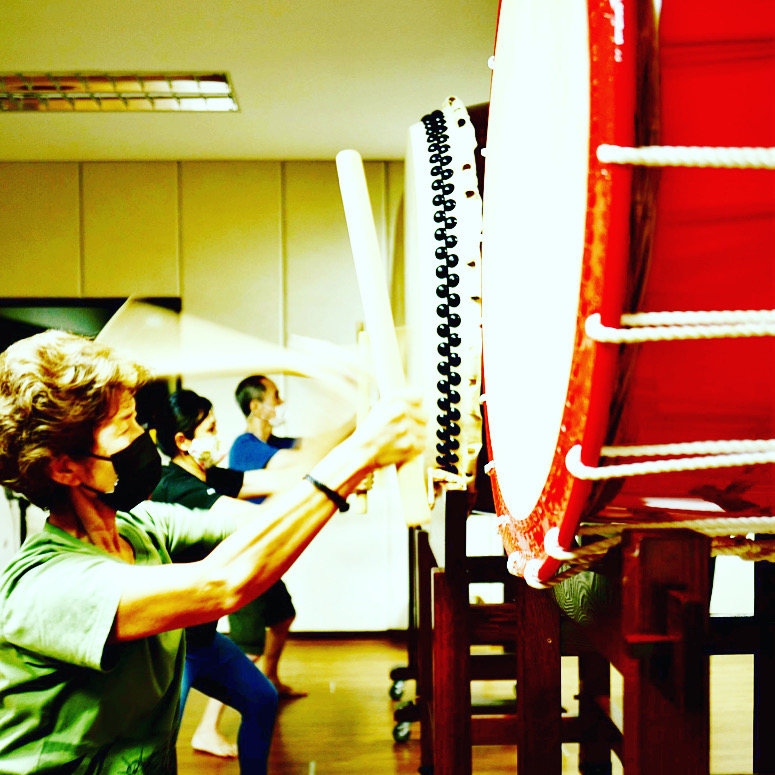 THINGS TO BRING:
1.WATER BOTTLE
2.YOGA MAT (if you have)
3.FACE TOWEL (or TENUGUI)
4.SPORT ATTIRE

持ち物:
1.飲み物
2.ヨガマット(あればお持ちください。)
3.タオル(もしくはてぬぐい)
4.運動のできる服装

Please feel free to contact us if you have any questions.
ご質問・お問合せは、お気軽に enquiry@hibikiya.com.sgまで。

♢Instuctor 講師:


♬ SAKAI NAMIKO (Japanese Drums) 酒井奈美子
(https://www.hibikiya.com.sg/)

シンガポール在住21年目。
日本で始めた和太鼓をシンガポールで広めるため、2009年に響屋設立。
何もないとこらから、太鼓を集めはじめ、現在では数えきれない太鼓を所有。
太é¼"だã'ã§ãªãã€ç¯ ç¬›ãƒ»ä¸‰å'³ç·šãƒ»æ°'俗芸能・æ°'謡など幅広くã'·ãƒ³ã'¬ãƒãƒ¼ãƒ«ã'"その他の国で広ã'ã'‹æ´»å‹•ã''してã"ã'‹ã€'

シンガポールF1、夏祭り、桜祭りの大きなイベントだけでなく、カタール、インド、ロシア、ブルネイなど様々な国の日本関連イベントに出演し、日本文化を紹介している。

和太鼓は、音楽として楽しむだけでなく、心と体の健康のための運動、チームビルディング、その他いろいろなアプローチがあると思い、キッズクラス、女性クラスなど積極的に開催。自分の経験から、ピラティスと和太鼓のコラボレーションに相乗効果を感じ、2020年よりPILATAIKOã''é–‹å'¬ã€'今後、ã'¨ã'¯ã'µã'µã'¤ã'ºã®è¦ç´ に特化した太é¼"ã'»ãƒƒã'·ãƒ§ãƒ³ãªã©ã''計ç"»ä¸­ã€'

https://youtu.be/VfaHukKZn5o


Read more
Updates
The event description was updated. Diff#1029038

2021-06-03 03:46:41
Jun 4
-
Jun 25, 2021
[ Fri ] - [ Fri ]
10:00 AM
-
12:00 PM
SGT
Add to Calendar
Venue

HIBIKIYA
Tickets

(2) 4 June 2021 (10:00-12:00)

SOLD OUT

$50.00

(3) 11 June 2021 (10:00-12:00)

SOLD OUT

$50.00

(4) 25 June 2021 (10:00-12:00)

$50.00

MONTHLY PACKAGE *above 3 sessions + free participation on MORNING TAIKO (18 June 10:30-12:00)

SOLD OUT

$150.00

Waiting list (Please specify the date you want to join at the registration form)
On sale until Jun 25, 2021, 10:00:00 AM
Venue Address

Jln Pemimpin, Singapore

Singapore
Organizer